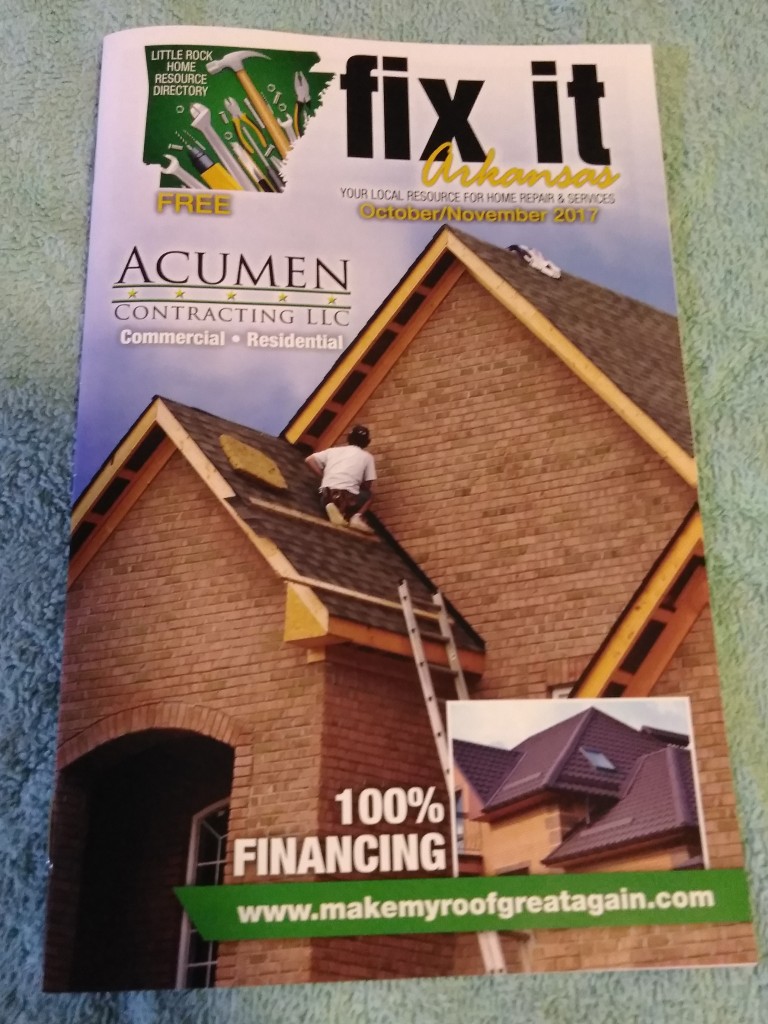 Fix It Arkansas! Local Resource For Home Repair And Services
Fix It Arkansas!
Acumen Contracting is on the front cover and the centerfold of Fix it magazine this month!

Local Resource For Home Repair And Services

We have been very happy with the work that Tonya has done for our company. I highly recommend her to anyone looking for this type of marketing. Tonya is a hard worker that really cares about the success of your business.
Local Companies From This Month's Fix It Arkansas
I want to use the rest of this blog post to highlight some of the companies in this month's Fix It Arkansas your local resource for home repair and services.
Clean Pro Janitorial Service
Clean Pro is a Janitorial Service for commercial companies located in Little Rock, Hot Springs and Bentonville.
Full-Service Office, Floor, Window Cleaning, and Power Washing.
Jiles Property Preservation
Jiles Property Preservation is your concrete specialist. Located in Little Rock Specializing in Curbs, Patios, Sidewalks, and Driveways. This company doesn't have a website but I will list their phone number. 501-258-8915
CottageCare House Cleaning At Its Best
CottageCare House cleaning at its best. I'm not going to say much about this company. They did a great job with an
ABOUT US
page. I recommend you go to their page and read it.
Save My Photos - Scan, Save, And Share Your Memories
Save My Photos scan, save, and share your memories. This looks like a great service. I just visited there website. They have pricing, gift certificates and photo books that looks like a really great gift idea. Give Tammy and Ken a call!
Second Chance Upholstery
Second Chance Upholstery located in Little Rock. After looking at there facebook page I could see that Second Chance Upholstery is a valuable service that can help you save your old furniture and restore them like new.
Facebook Page
Pick Up A Copy
You can find Fix It Resource book at your local Kroger store.