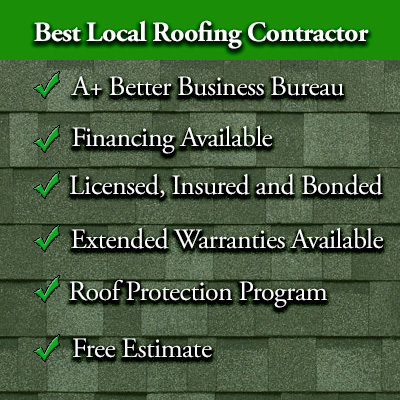 The Best Local Roofing Contractor! What Makes Us The Best?
I have been roofing all my working life. Roofing was my first job. It taught me a lot about hard work. Roofing has got to be one of the toughest jobs out there. After years of experience, most of the time you will become a terrific roofer. I have heard people say things like this before, " I have been roofing for 30 years, I'm good! " After looking at their work, I'm thinking you have been doing it wrong for 30 years. What sets us apart from other roofing contractors is that we are always looking for ways to do a better job. When I met Rick Poe, he was part of a leadership development company in my area. I have always known that you never stop learning. One of my favorite verses in the bible is Proverbs 4:7 "Wisdom is supreme ."

Why Is It Important To Know About The Leadership Of A Roofing Company?
When looking for a roofing contractor, you will want to know that the company that you will be working with will be around after your job is complete. If something were to happen to your roof, you would want to know that you can have them come back out to fix the problem. A company with good leadership means they will focus on customer service, have the right certifications so that the material manufacturers will allow them to offer an extended warranty, and do all the necessary things that make a successful company.  "Everything rises and falls on Leadership" - John Maxwell -
Information About Rick Poe

Rick Poe, Co-Owner of Acumen Contracting, has spent the last 38 years working in the construction industry. 17 of those years was building custom homes in the Hot Springs and Bryant area, then as a storm damage consultant helping local roofing companies in storm damaged areas process insurance claims after a major storm event. Last but not least Rick also has worked as a team leader in a leadership development company.
Information About Richard Levisee

I have been working in the construction industry for over 30 years. During that time, I was doing home improvement work in Little Rock, Bryant, Benton, Conway, Jacksonville, Sherwood, Cabot, Maumelle and all over central Arkansas. Rick and I started the company Storm Seals where we both worked as storm damage consultant. We also worked together in the same Leadership development program.
Development Of The Insurance Claim Processing System
One of our company's best assets is the Acumen Claims Processing System.  Have you ever wondered if your insurance company really paid you everything you were owed? Not only have we thought about it, we have taken the steps to ensure it.  Through years of experience, we have developed a streamlined method of taking a storm damaged home, inspect the insurance paperwork and damage assessment, supplement errors and omissions with the insurance company, provide documentation to the mortgage company(if needed), acquire permits, complete the job production, invoice the insurance provider to release final funds, provide lien release forms to mortgage company(if needed), and provide final receipt and warranties.  This system takes away all the headaches from the customer, providing a stress-free experience.  Remember, the only one who loses money for not knowing the insurance game is you!  Let the Acumen Claims Processing System go to work for you.  
Warranties
We are preferred contractors with multiple shingle manufacturing companies. In order to be a preferred contractor, the manufacturer will research your company history, need a copy of a current license and current insurances, talk to suppliers to make sure that bills are being paid on time, and require you to be in business for at least 3 years.  A lot of the same things that every homeowner wants to know.  Why would anyone allow a contractor who was not certified by a shingle manufacturer to work on their roof?  
Shingle Manufacturing Company We Work With
IKO
IKO started their business in 1951 so they have been making shingles for a long time. After meeting with the sales rep for IKO and hear him talk about their products, I knew this was the right company to team up with for our roofing materials. Probably 70% of the shingles we install are IKO. 
Roof Financing And Loans

Getting a new roof installed can be expensive. It's a good thing that it doesn't have to be. Acumen Contracting can help you get the financing you need to get a new roof! With our loan program, we give you the flexibility to use the wallet based credit products over a 6 – month purchasing period.  With payments as low as $100 per month, or our 12 month same as cash, we have the perfect option to meet your needs.  

Our Goals As A Company
Our goal as a company is to Make Your Roof Great Again! Exceptional customer service and a hassle-free process is also very important to our success.  From the initial sales meeting, through the insurance and production process, to the delivery of the warranties, we strive to make this a simple and stress-free experience for our customers.
What This Means For You
Once you contract with us, we do all the leg work, so you don't have to. If you have ever had to file an insurance claim, you know how much work it can be, especially if your mortgage company is involved with the process.
Acumen Contracting Is A Company With Grit
Here is a video that I watched the other day and it made me think about our business.

How To Find Out More About Our Company